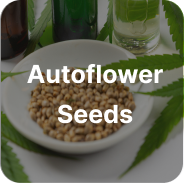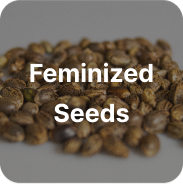 Resultaat 13–22 van de 22 resultaten wordt getoond
SeedShop
Looking for top-notch weed seeds that will help you produce successful crops? Welcome to Smartshop Planet's SeedShop! At our seed shop, we have everything you need to grow your own cannabis plant. Our high-quality weed seeds are easy to grow and produce satisfying harvests. Whether you are a beginner or an advanced grower, we have top-notch cannabis seeds to meet your needs. SmartShop Planet is committed to delivering quality weed seeds to every customer. Our selection includes autoflowering seeds, feminized seeds, regular seeds, and more. Rest assured you are getting the very best with every order. Ready to buy the best marijuana seeds online? Take your pick and get your seeds from the SmartShop Planet!
Autoflower Seeds
Autoflowering cannabis seeds are great for beginners! They require a short flowering time and very little care. Thus, there is a very high chance of getting a successful harvest both indoors and outdoors! With autoflower seeds, growing your own cannabis plant has never been easier. You just need to ensure that it gets enough light and water. Browse our wide selection of autoflower seeds. Get started with your cannabis growing journey today.
Shop Autoflower Seeds
Feminized Seeds
Feminized seeds grow into female plants and bear buds rich in cannabinoids, which allows fast cultivation of cannabis. We offer feminized cannabis seeds in various strains. Choose from our top-notch seeds and plant your first cannabis plant today.
Shop Feminized Seeds
Regular seeds
Regular seeds grow into male and female plants. Female plants produce buds that contain cannabinoids and flavonoids. Male plants are helpful for creating new varieties of cannabis. Regular seeds are great for growers who want to breed new cannabis varieties. They are also a great choice for passionate growers who want to grow marijuana in its purest form.
Shop Regular Seeds
Benefits of Growing Weed Seeds
Thinking of growing your own weed at home? Here are the benefits that might convince you to get started:
Full control - Growing your weed allows you to take charge of the growing process from the start until the end. This ensures that you are able to give your plants the best environment and nutrients.
Cost-efficient - Growing your own weed comes with start-up costs and expenses. However, it will still come out cheaper in the long run. The price per gram is going to be much lower than purchasing from a retailer.
Relaxing - There is a satisfaction that comes with watching your own plants grow. As you become a more confident grower, you can even experiment with growing your own strains.
Here at SmartShop Planet, we are committed to delivering the best cannabis seeds at an affordable price. Our team is committed to making the customer's experience smooth, safe, easy and fast, providing ultra-fast delivery throughout Europe. Browse our selection of handpicked products.
How to Choose Cannabis Seeds?
It is important to choose the right weed seeds to ensure a healthy harvest. The seeds will determine grow difficulty, expected yield, and effects of your weed. Here we'll show you how to choose the best cannabis seeds that meet your needs and preferences:
Grow difficulty - Some plants grow with very little maintenance. But there are plants that require skill, attention, and TLC. Do your research before choosing your seeds. Make sure that you choose a strain that matches your level as a grower.
Expected yield - How much marijuana are you expecting in each harvest? Different strains have different expected yields. Make sure to choose a strain that matches your desired output.
Price - With a wide range of cannabis seeds available, you are sure to find a seed that's in your price range or budget. Just keep in mind that you should only purchase from reputable sellers. If the price is too cheap, you might compromise the quality of your crop.
Potency - It is important to check the strength of the strains when choosing your seeds. If you have a lower tolerance, choose a strain with a lower strength. Check the expected level of the cannabinoids to find the best seeds for you.
Indica VS Sativa Seeds
Indica and Sativa are the two main types of cannabis. The most obvious differences between the two are their size and shape. Sativa is long with thin leaves. On the other hand, Indica is shorter with broad fan leaves. However, the differences between these two types go beyond the physical traits. There are also differences in the taste and effects. Sativa plants were originally found in countries with hot climates and sunny days. The effects of Sativa tend to be more "cerebral" rather than "euphoric". Some users may experience an energising effect. This makes Sativa more ideal for daytime usage On the other hand, Indica plants are native to places with harsh and turbulent climates. Indica plants tend to help with relaxation. This makes Indica more ideal for night-time use.
Feminized and Non-Feminized Seeds
As the name suggests, feminized seeds produce female cannabis plants. Female plants produce cannabinoid-rich buds. It is the ideal choice for fast and simple cultivation. It is also more beginner-friendly. On the other hand, non-feminized seeds produce a mix of male and female plants. While male seeds do not assist in producing large yields, they are still essential. Male plants are required in improving and breeding marijuana strains. If you are a more experienced grower, you might want to work with non-feminized seeds.
Should you grow cannabis indoors or outdoors?
Growing your own cannabis plant is a versatile process. It can be done either indoors or outdoors. When you grow plants indoors, you can control the environment for growth. You don't need to worry about weather conditions or pests. It keeps the growing cycle steady and consistent all-year round. It is also a good choice if you want to keep the process discrete. Cannabis seeds that suit indoor growing are the Blue Cheese, Wedding Cake, and Gorilla. An outdoor setting is also a good option because it puts the plants in their natural environment. Cannabis plants tend to reach their full potential when they are grown outdoors. However, growing cannabis outdoors means plants have to deal with harsh weather. Some notable strains that strive outdoors are the Silver Haze and White Widow.
Buy High-Quality Seeds Online
Looking for the best cannabis seeds to start your growing journey? When buying cannabis seeds online, it is important to choose a reputable store. SmartShop Planet is your trusted supplier of Cannabis seeds and other recreational products. Our best sellers also include magic truffles and CBD oil. Browse our webstore and find the best products for you! Our team puts enormous effort in ensuring the best outcomes for our customers. We are available to answer your questions and support you long after your purchase is made. We are confident that you will have an excellent experience with us. Thank you for choosing the SmartShop Planet.
FAQs
How can you tell if cannabis seeds are good?
Good cannabis seeds are usually dark, brown, or grey. They also have a uniform colour all throughout. It is also good to choose seeds with a round or teardrop shape. Seeds with an irregular shape usually lead to a low yield.
How many seeds should I buy?
You should buy and plant 25-50% more seeds than you plan on germinating. Typically, a single marijuana seed results in one plant. However, it is best to have some allowance. If you are a beginner, you might want to consider choosing feminized and autoflower seeds for better harvests.
How to store cannabis seeds?
It is best to store your weed seeds away from direct light. It is also a good idea to store it in a space with low humidity and temperature. A dark drawer or cupboard will suffice for short-term storage.
How long does it take to germinate cannabis seeds?
Cannabis seeds typically take 24 to 48 hours to germinate. This may vary depending on the kind and strain.